Bareboat with Skipper, All Inclusive, or Bareboat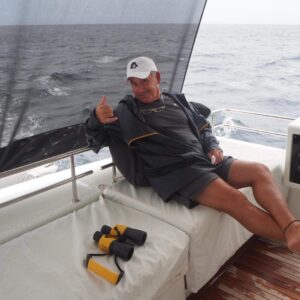 Captain Randy Bregman (RB) has been organizing sailing trips for hundred's of friends seeking the trip of a lifetime for nearly two decades in the Caribbean islands of the BVI's and beyond. He is a trustworthy captain with tons of experience on both sailing and motor yachts. Capt RB is a BVI Boat Master and USCG 500t Licensed Captain with sailing endorsement. With over 50 years maritime experience without incident, he has sailed all over the world and loves sharing his experiences with you.
Captain RB owns a spacious new
2021
5 cabin Lagoon 50 sailing yacht in a world renowned charter fleet, available for those interested in a British Virgin Islands experience like no other. With only a few weeks of the year available, you can check out his boat
HERE
and then return to chat with Capt RB to plan a unique experience you will cherish for a lifetime! Captain RB will work with your crew's schedule to meet your needs based on time, cost, and vessel availability on one of the many other vessel options. There are several to choose from that will fit your crew size and timeline WORLDWIDE. Rest assured, it will happen!
Skippered Option: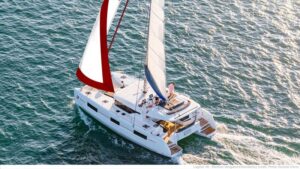 Not only will Captain Randy help you choose the appropriate vessel for your trip, he will organize everything leading up to and during your holiday. A safe, worry and stress free vacation experience is yours to be had with Captain RB at the helm. You will enjoy island hopping in a safe and fun environment whether you are sailing with family or friends, on an unforgettable adventure. Capt RB is especially great with families and children.
Captain RB only takes recommendations from those he has sailed with before, so referrals are a must to secure your booking. Once you're aboard, Captain RB will be with you and your crew throughout your adventure. So your entire voyage will be worry free without a second wasted on learning the ins and outs of manning the boat, route planning, mooring arrangements, acquiring provisions, awareness of laws and regulations, establishment's hours of operation, dinner reservations ashore, events, etc. Leave all of that to your captain and just relax and enjoy your island-hopping journey. He takes you to those hidden spots only known to locals. You will have a few hours of sailing per day with stops for snorkeling, hiking or relaxing. Usually visiting 2 – 3 islands per day, you'll end up in a calm protected cove by cocktail hour. The yacht has a fully stocked galley and outdoor grille for your use. You may prepare your own meals on board, or dinghy ashore for a nice dining experience at one of the many beach bars and restaurants. Our yacht is fully air-conditioned and has a water maker for endless hot showers.
All Inclusive First Class Option : Jan's FeLion 63′ Lagoon Power Cat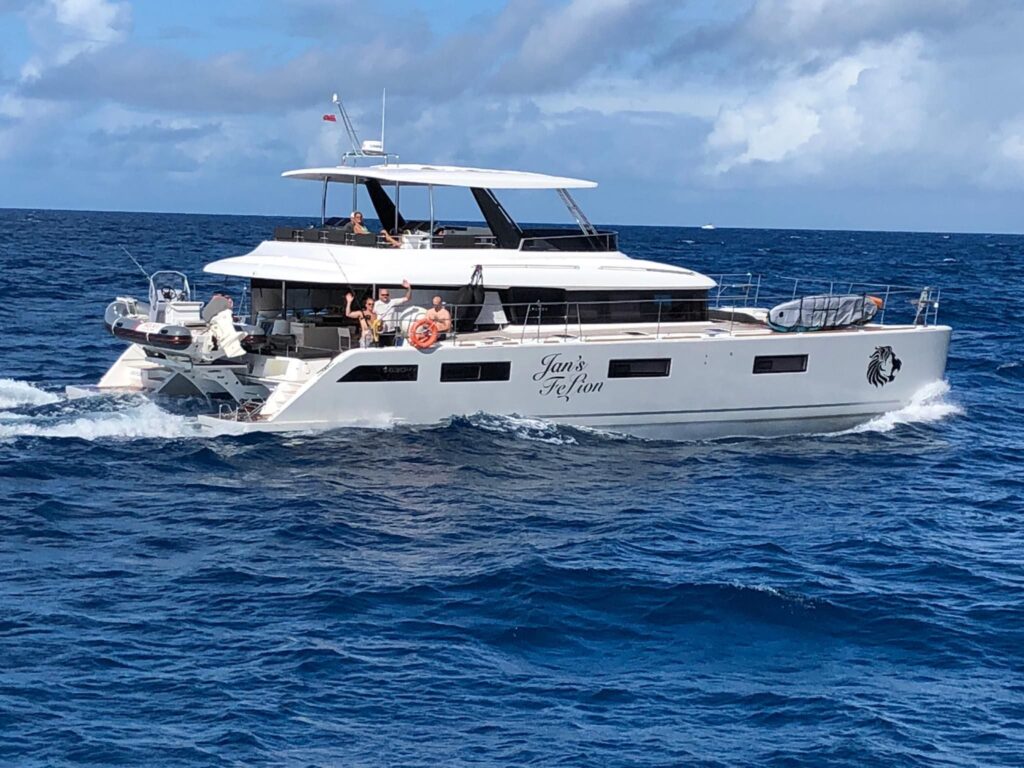 You and your family can opt for the ALL INCLUSIVE luxury cruising experience. This option would include your on board chef serving whatever dishes you desire for breakfast, lunch, and dinner. You will also be treated to a wide variety of cocktails and tropical beverages of your choice whenever desired. We will make all the arrangements for your first class luxury experience.  Captain Kirk Robinson, Chef Nia, and Steward Kat will attend to your every need.

Capt. Kirk Chef Loic Stew Kat
Join our crew or put together your own
If you have experienced the BVI's, you have likely returned for yet another memorable trip and can attest that it is nothing less than a wonderful must-see destination. However, if you are looking to try another destination, we can make it happen! You can sail from any of the World Renowned Charter Company's bases WORLDWIDE.
Checkout destination and boat options
HERE
and then return to chat with Capt RB to plan a unique experience you will cherish for a lifetime! For questions and to start planning, contact us today!
Bareboat Option:
If you wish to run your own yacht, look no further. We have an additional few weeks of owners time to sell to qualified skippers. This option will require your expertise level to be verified to make sure you have the best experience possible. This option will save you thousands of dollars over the cost of booking directly with a charter company.
Prefer a Villa with optional day sails?
We can organize this as well. Some prefer to stay in a luxury villa and rent a center- console for the day. You may enjoy a day sailing excursion or two and come home to a cozy condo. Whatever your wishes are, we can accommodate all of your holiday plans. Want a personal chef for the week? We've got you covered.
Contact 
Captain RB
(757) 478-7581 or RandalKBregman@gmail.com
Chris Caton
(757) 287-5632 or ChrisCaton@cox.net
---